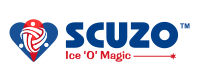 SCUZO international
Category : Food & Beverages, Master Franchise
Sub Category : Ice cream and Yogurt parlor, Kiosk/Carts/Mobile Vans,
Ice cream is a magical invention that speaks to all our hearts. Across different age groups, all genders, geographical locations, customs, and traditions, ice cream is an universal superstar which brings joy to everyone. Many of us have grown up dreaming of owning our own ice cream empire. We would have the option of making extravagant executive decisions and creating masterpieces. The cherry on the cake would be the fact that there would be no restrictions on the amount of ice cream we consume.
For the first time in country, we have introduced refreshing wide range of live making popsicle concept, with national and international flavors with our own in house secret recipes topped with exotic fruits to enhance the naturally fresh flavors. The Goal is to bring a satisfactory smile on consumer's face while holding the Scuzo popsicle in hand. Our menu offering includes variety of world class popsicle, mouth-watering flavors of Gelato Ice-Cream along with variety of desserts such as Ice Cream Waffles, Sundaes, Doughnuts, Milkshakes, Ice Cream cakes etc.
| | |
| --- | --- |
| North | |
| South | |
| East | |
| West | Gujarat, |
| Center | |
| Union Territories | |